By: Danielle Demedeiros -
Hi Everyone! Are you enjoying fashion week?!? We love seeing all the behind the scenes action on blogs and Instagram! With London Fashion Week under way, Lauren and I thought it would be helpful to share some of our favorite beauty products that are easy to carry while on-the-go.
 Like most women, Lauren and I are always on-the-go. Whether it's a killer commute to work or running to make it from work to night class, we are always looking for accessible beauty products that are easy to store in our bag.
From tinted moisturizer and lip gloss to perfume and lotion, you'll find our favorites (along with some absolutely adorable cosmetic bags) below!
For perfume on-the-go we love rollerballs.  They fit perfectly fit in any clutch or purse.   We chose Juicy Couture's Viva la Juicy Eau de Parfum.  Long live the scent of couture!  With top notes of wild berries and juicy mandarin and hints of gardenia and jasmine. This sweet scent is reminiscent of spring.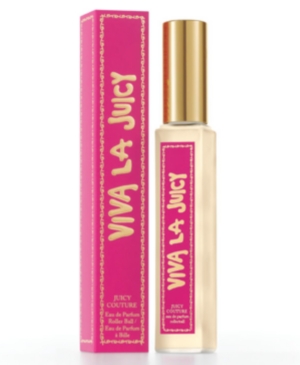 [maxbutton id="3"]
Speaking of Spring, with warmer weather comes the need to lighten the amount of foundation we need.  Nars, Pure Radiant Tinted Moisturizer hydrates and brightens.  This advanced, oil-free formula provides a translucent veil of color and sun protection while helping to reduce the appearance of hyper-pigmentation and dark spots in just four weeks.
[maxbutton id="2"]
Since you are going light on the coverage we must not forget covering the under eye circles.  Laura Mercier's Secret Camouflage completely hides dark circles, minor imperfections, and discolorations. Secret Camouflage contains a unique two-shade system, one to match the skins depth of color and one to match the skins undertone, making it possible for every woman to custom-blend her own shade. The high level of pigment requires very little product to achieve complete coverage.
[maxbutton id="4"]
Our must-have for the lips is the Bobbi Brown High Shimmer Lip Gloss in two new shades (for that late-in-the-afternoon glow).  This non-sticky gloss (yes we said non sticky!)  looks pretty worn alone or over lipstick.  Made from fine pearls and clear pigments, as well as a powerhouse mix of vitamins C and E with enriching emollients, your lips will feel as good as they look.
We must not forget the best on-the-go cosmetic case.  We chose this one from Marc By Marc Jacobs.   The printed feminine florals in quilted nylon  from  is the prettiest way to tote your beauty essentials.
[maxbutton id="6"]
Check out more from Danielle, blogger and co-founder of Waistedd.  A fashion blog created by two best friends as a creative outlet to showcase their style and inspiration.
Be Social on their Instagram & Twitter: @_waistedd // Tumblr // Pinterest: WAiSTEDD
Need help with online shopping! Stylebar is almost open! Request your invite, here!